Conformal coating training courses

Conformal coating training is not a widely available service to offer companies.
Yet, almost all companies can benefit from working on some aspect of the conformal coating process, whether that is to improve process control, reduce defect rates and / or understand how to select a process that is optimum to them.
SCH Technologies deliver quality conformal coating training courses both on and off site for customers who wish to operate state of the art processing.
Whether you plan to install a conformal coating process or currently use conformal coatings we can help to develop or optimise your process, to ensure you achieve the best performance.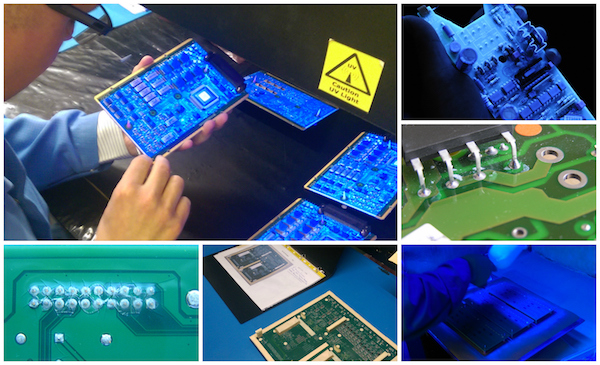 ---
What can SCH offer for conformal coating training?
SCH Technologies can offer expert conformal coating training in all areas of coating including
Application techniques
Material selection
Process optimisation
Trouble shooting
Health & safety
Specialist areas of training
---
Areas of training in detail
As well as general courses in conformal coating, SCH Technologies can tailor the course to meet a customers needs and ensure the maximum knowledge is imparted to the trainees. We can train in all areas including
Process control
Process optimization and measurement
Parylene optimization
Troubleshooting your process
Cleanliness and reliability
Inspection & standards
Manual inspection
IPC Inspection standards and interpretation
Development of pass / fail criteria
New product introduction
Material selection
Application selection
Process implementation
Application processes
Batch spraying
Batch dipping
Selective robotic spray
Removal and stripping masking & de-masking
Curing and drying
---
Key Points
Conformal coating training can be provided anywhere in the world
We cover all areas of the coating process. This includes application techniques, material selection, optimisation, health & safety and trouble shooting plus specialist areas of training
We uniquely offer tailored solutions on all aspects of conformal coating
---
Background
As conformal coating experts, SCH Technologies offer a unique and comprehensive service to the electronics industry. SCH develop & manufacture a complete range of conformal coating equipment, offer conformal coatings and other thin film technologies and provide global leading subcontract conformal coating service.
Whatever issues you currently have in training we can certainly help and are available to offer advice however complex.
---
Contact us
If you would like to know more about your tailored training solution or other products and services offered and supported by SCH Technologies, please do not hesitate to contact us on +44 1226 249019, email us at sales@schservices.com or click Contact Us to send us your requests.