The CB100 conformal coating spray booth
The CB100 Spray booth is designed specifically for spray application of materials such as conformal coatings and RFI shielding paints onto printed circuit boards and small size products.
The CB100 Spray booth is a free standing, purpose built system, which can be made to customer's size and specification requirements.
The system is designed for safe application of coatings whilst spraying, without compromise to performance, quality or throughput.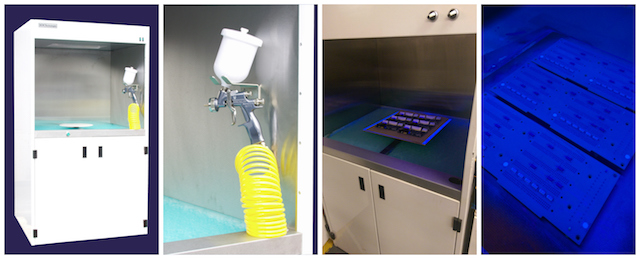 ---
Standard features
The latest in HVLP spray gun technology giving a repeatable film thickness with the minimum amount of training
Downward draft extraction, coupled with the high quality spray gun ensures minimal over spray wastage and minimises health & safety risk
Manual turntable at an ergonomic application height for full 360 degress coverage
UVA Ultraviolet light for in situ inspection DURING spraying to aid the operator in ensuring a high quality of application is achieved without compromise to health & safety
White light for further inspection and maintenance.
Easy access work cupboard with two doors for storage of consumables etc.
Easy change low cost filtration reduces consumable costs without compromise to safety.
---
Options
Automated turntable for automatic 90-degree indexing of the circuit boards to be processed.
Varying sized dual stainless steel pressure pots for use with pre-blended conformal coatings to minimise operator .exposure to mixing, blending & spray gun cleaning and also reduce spray booth downtime due to repeat filling.
Laminate transparent spray screen for reduced extraction requirements if facilities are limited.
Face mask, carbon filter and regulator for highly toxic materials.
Teflon coated internal panels for easy clean within the booth.
Fire suppression system to meet required regulations in some countries.
Custom designs and size options.
---
Structure
Exterior powder coated white, interior brushed stainless steel.
Fabricated from strong, durable steel panels with fully riveted seams.
---
Dimensions and weight
Dimensions ( approx) 1800 mm high x 985 mm wide x 795 mm deep.
Weight: approx 150kg
---
Facilities
Clean, dry, compressed air at 80 psi
305mm extraction connection to spray booth via spigot
13A single phase electricity supply
8mm push fit air inlet
980 cubic ft per min (CFM) extraction (0.7 m/s air velocity)
---
Downloads
If you're planning to install a piece of equipment, please check the exact specification of the brochure with us. All details shown in all brochures are subject to change between publication dates.
---
Setting up a conformal coating equipment line?
Consider our conformal coating equipment bundles.
---
FAQ's for spray booths
---
Links for conformal coating equipment
---
Downloads
---
Links
---
Contact us
If you would like to know more about coating services or other products and services offered and supported by SCH Technologies, please do not hesitate to contact us.
Call us on +44 1226 249019, email us at sales@schservices.com or click Contact Us to send us your requests.