DS101 conformal coating dip system
The DS101 Conformal coating dip system is a precision built, floor standing, conformal coating dip machine. It is designed for medium to high volume batch processing of printed circuit boards.
The system operates on compressed air only. Being entirely pneumatic the machine is safe to use with flammable materials. It also reduces the cost of expensive electronics required with explosive solvents.
The machine uses an air over oil pneumatic system for precision regulated speed control of the dip process. The automatic dip cycle process provides a smooth immersion and withdrawal rate which eliminates air entrapment and ensures an even film.
This allows a wide range of conformal coatings to be coated with repeatable high tolerance of conformal coating thickness to be achieved.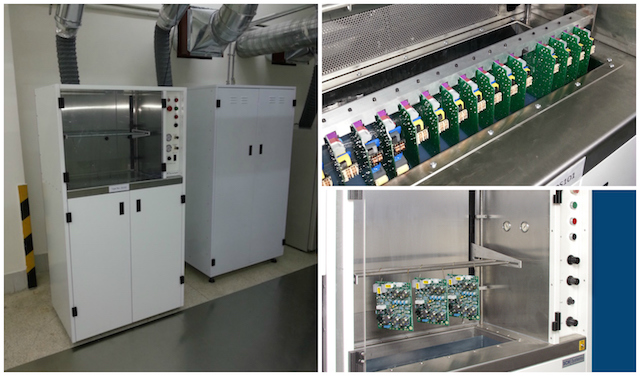 ---
Standard features
A pneumatically driven control & pump system operating from a single air inlet to meet the most stringent H&S needs
Front-mounted control panel for easy operation
Constant levelling re-circulating weir system
Multiple horizontal support rods on dipping arm
Compatible with solvent, silicone and water based coatings
Fume extraction hood and extraction point for spigot to be fitted
RoHS compliant system
---
Options
Argon gas flow monitor and gas manifold
Flow cup, viscosity tables and stop watch for material viscosity control
Fixed steel rule to calibrate dipping speeds
Teflon coated tank and panels
Custom tank and dip system sizes
Stainless steel weir catch tray
Transparent doors fitted for minimal exposure to operators
Automatic viscosity control and top up system
Customised PCB jigging and carriers
---
Standard dip tank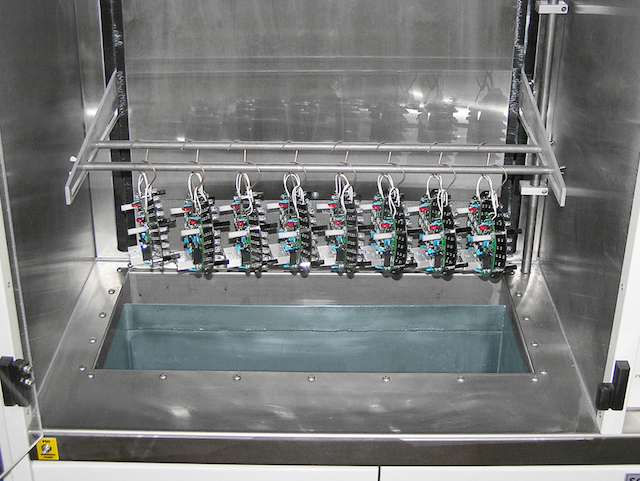 Stainless steel dip tank.
Usable area is approximately:

600 mm long (left to right facing machine)
200 mm wide (front to back facing machine)
300 mm deep
50mm wide rear weir, 150mm deep for easy clean.
---
Structure
The system is constructed of powder coated steel frame with solvent resistant stainless tank internal panels and tank.
System is pneumatics only. No electronics are used.
---
Dimensions and weight

Dimensions: ( approx) 1795 mm high x 950 mm wide x 590 mm deep.
Dip tank: Stainless steel. Usable area is approximately 600 mm long x 200 mm wide x 300 mm deep with a 50mm wide rear weir, 150mm deep for easy clean.
Range of dip speed: 0-150mm/min
Tank Capacity: approx 40 litres.
Weight: approx 155kg excluding coating
---
Facilities
Clean, dry, compressed air at 80 psi
150mm extraction connection for spigot to be fitted
475 cfm for extraction with doors open, 30 cfm doors closed
---
Downloads
If you're planning to install a piece of equipment, please check the exact specification of the brochure with us. All details shown in all brochures are subject to change between publication dates.
---
Setting up a conformal coating equipment line?
Consider our conformal coating equipment bundles.
---
Conformal coating dip coating FAQs
---
Links for conformal coating equipment
---
Downloads
---
Links
---
Contact us
If you would like to know more about coating services or other products and services offered and supported by SCH Technologies, please do not hesitate to contact us.
Call us on +44 1226 249019, email us at sales@schservices.com or click Contact Us to send us your requests.
---