Nano-coating dip system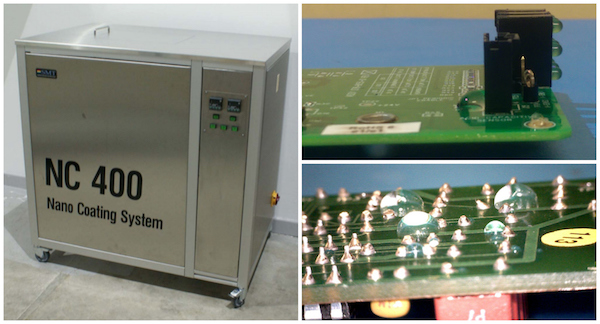 The NC 400 Nano-coating dip system is suitable for applying ultra thin fluoropolymer coatings and it achieves this simply and without adding large costs to production.
This practically designed dip system is suitable for low, medium and high volume production because of its modular design. For example, the size of the tank is easy to adjust due to the design of the structure.
Further, Nano-coatings can contain high-cost fluorinated solvents because of issues with safety in use, reduction in transport costs and the environment. However, these solvents can be both highly volatile and also be highly costly. At SCH we design the systems to be compatible with all types of commercially available Nano-coating materials due to the systems flexibility in cooling.
So, solvent losses from a coating process using a Nano-coating can be expensive if not controlled. Therefore, using our Nano-coating dip system that handles high value coatings is advantageous especially when using the dip process regularly or for medium to high volumes of product.
---
NC 400 Nano-coating dip system
The NC400 dip system design allows dipping of printed circuit boards into fluoropolymer Nano-coatings while keeping the process simple for the operator.
This practically designed dip system prevents significant losses of solvent while allowing coating of low and medium volume products in a safe, cost-effective way.
NC 400 Features
The NC-400 dipping machine has the following features:
Dip tank and basket system. Using a dip tank with a basket system ensures a simple coating process. This is because of easy submersion of the product into the Nano-coating.
Refrigerated system. We use a refrigerated sump and tank. This controls and captures the escaping solvents. This is because otherwise the losses from evaporation would be too high.
Filtration. The integrated pumping and filter system ensures control of the nano coating purity and also delivers the coating to the tank in the right format .
Unique refrigeration. Using a unique solid-state refrigeration system helps to reduce evaporation losses while avoiding CFC based cooling systems.
Built in redundancy. The solid-state system tolerates failure of part of the cooling array because of the design. The NC 400 can continue working and saves both lost production time and expensive coating materials.
Minimal losses. Built in dual cooling coils in the hold zone above the sump to further minimise losses due to the normal evaporation of the carrier solvent as the coated objects dry outside the machine.
Manual or automated dipping. Operators can dip the circuit boards manually or the NC 400 dip system can do it automatically.
Full compatibility. The NC 400 Nano-coating dip system works with almost all current fluoro-polymer coating materials and fluorinated solvents from a variety of manufacturers. Hence, it is a highly flexible machine.
For a full specification of the Nano-coating dip system download here:
---
Links
---
Contact us
Call us on +44 1226 249019, email us at sales@schservices.com or click contact us to send us your requests.