Conformal coating systems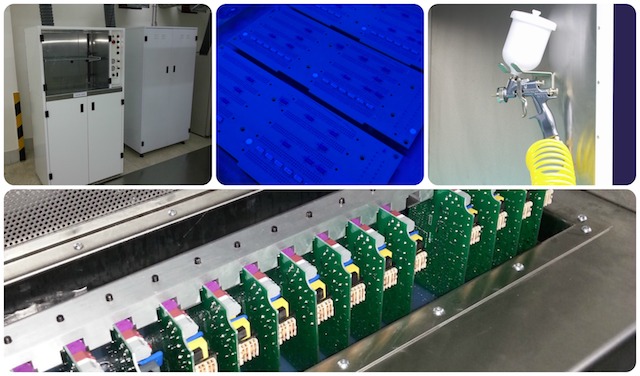 SCH supply a range of conformal coating systems that are perfect for practical production processing because of our expertise and knowledge.
First of all we know that the key to getting the application process right is choosing the right conformal coating equipment. Yet this can often be problematic due to errors in the selection process.
Therefore, you need a range of equipment to select from. SCH has that range.
Why choose our conformal coating equipment?
All of all our equipment is designed for practical function and value for money because we need the right conformal coating systems in our coating services. Consequently, we know the equipment meets the highest criteria for quality coating production because we use it all the time.
Further, we supply conformal coating systems globally and they are used all the time. Hence, we know our machines work.
Furthermore, we have a range of systems and options to select from. This is because no one system fits all.
First of all we have a range of coating systems for different volumes of printed circuit boards. We can provide machines for low, medium and high volume production while still meeting the quality and cost requirements.
Second, we have coating systems for both batch and inline processing because customers prefer choices. With our systems you have the options for lab production, stand alone batch machines or fully integrated inline systems.
Finally, we have many different options for process control since it can be very important in a production environment.
This gives you the options to choose the right equipment to suit your needs because no system fits all production needs. As a result conformal coating processing can be successful because we can help guide you to the right solution now.
---
Conformal coating systems available
Our comprehensive range of conformal coating application, process control and curing systems includes:
Choose our conformal coating systems because we have the right level of experience and expertise to help you.
---
Links
---
Contact us
Call us on +44 1226 249019, email us at sales@schservices.com or click Contact Us to send us your requests.