Screenclean 100 cleaning fluid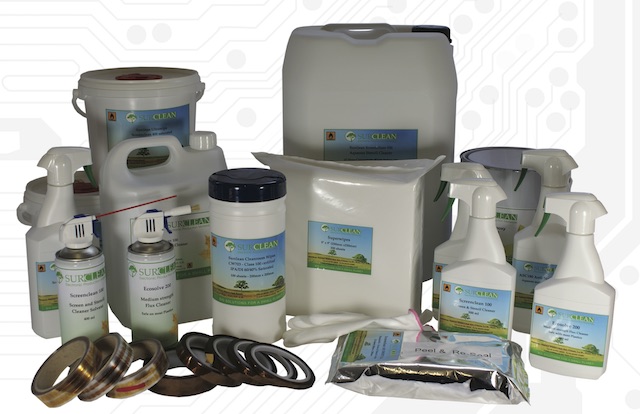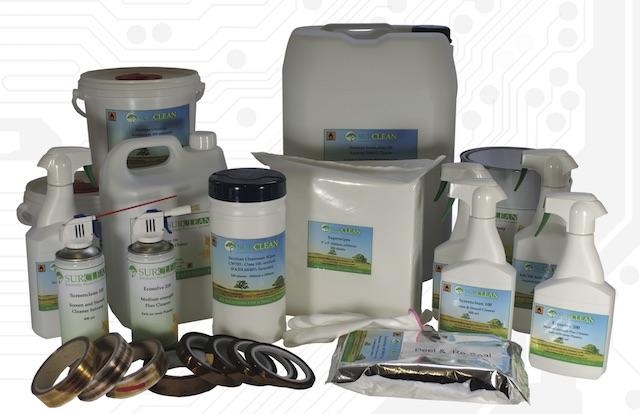 The SC100 screen cleaning fluid from Surclean is a fast drying powerful cleaner for effective cleaning of pastes and adhesives from stencils, screens and associated tooling.
Manufactured and packed to Class 100 (ISO Class 5) specifications. Recommended for both manual cleaning and use in printer under stencil auto cleaning systems.
---
Main facts
Screenclean 100 is a powerful but safe propylene glycol ether blend capable of removing even hardened solder paste deposits and almost all uncured adhesives.
Capable of softening all the resins and rosins used in pastes and adhesives in seconds.
Screenclean 100 is recommended for manual cleaning operations, particularly between prints or at the end of work clean up. General purpose stencil cleaning material.
Screenclean 100 is also recommended for use on printer auto under stencil cleaning systems as the solvent.
It evaporates completely leaving a clean, dry and grease free surface behind.
Screenclean 100 is harmless to most plastics, elastomers, rubbers and industrial finishes, and has good compatibility with the screen attach adhesives used with mesh backed framed stencils.
Screenclean 100 is non ozone depleting, oxidizes rapidly, and does not form smog or persist in the atmosphee to generate pollutants.
It is fully bio-degradable and will not bio-accumulate.
It is low toxicity, low odour, has a medium to high flashpoint of 36 degrees C. for factory safety and is economical in use.
Class 100 specification. Screenclean 100 is filtered to 0.1 um, the container is filtered air washed and then double vacuum packed in our own cleanroom facility for integrity.
---
Standard Pack Availability
400ml aerosol spray
500ml trigger spray
1 litre trigger spray
5 litre container
25 litre container
---
Data sheets
---
Cleaning links
---
Links
---
Contact us
If you would like to know more about coating services or other products and services offered and supported by SCH Technologies, please do not hesitate to contact us.
Call us on +44 1226 249019, email us at sales@schservices.com or click Contact Us to send us your requests.