Specialist greases and lubricants supplied by MG Chemicals can provide lubrication by reducing friction, improve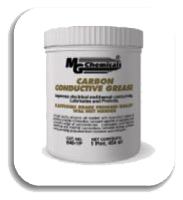 electrical and thermal connections, dissipate heat and provide moisture, oxidation and corrosion protection on moving (sliding) surfaces and non-moving surfaces and parts.
The MG range of materials Include a complete range of Shielding Paints for RFI / EMI screening, specialist epoxy potting compounds including thermally and electrically conductive encapsulates and UL approved materials and speciality lubricants, greases and adhesives.
---
Range of products
846 Carbon conductive grease
Lubricates and improves electrical and thermal connections between sliding surfaces, while providing protection from moisture & corrosion. Excellent for use on switches and EMI shielding applications.
8463 Silver conductive grease
Provides maximum electrical and thermal conductivity between sliding surfaces.
847 Carbon conductive assembly paste
An electrically conductive, non-bleeding grease for improving electrical connections between non-moving surfaces and parts.
---
Dielectric greases
8462 Silicone grease
Provides superior corrosion protection. Lubricates and protects against moisture. Compatible with most plastics and elastomers. Offers excellent dielectric properties.
---
Thermal greases
860 Silicone heat transfer compound
Lubricates and improves thermal connections.
8610 Non-silicone heat transfer compound
Lubricates and improves thermal connections.
8615 Super thermal grease
For use with heat sinks to effectively dissipate heat generated by electronic devices and circuitry.
---
Lubricants
8461 Lithium grease
Provides lubrication and protection against corrosion and oxidation. Reduces friction and wear.
8472 Penetrating oil
Cleans, lubricates and protects. Moisture displacer.
---
Lubricants and greases technical documentation
Grease application guide
Heat transfer compounds application guide
MG chemicals general brochure
---
Lubricants and greases – FAQs
Where would I use White lithium grease?
Why would I use translucent silicone grease?
Where would I use carbon conductive grease?
Why do you need a heat transfer compound?