Positector 6000 conformal coating thickness system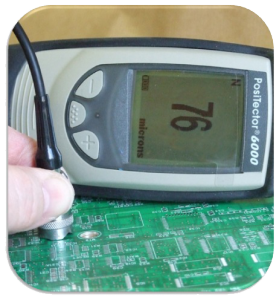 The Positector 6000 is a rugged, fully electronic coating thickness gauge which uses magnetic and eddy current principles to measure conformal coating thickness on both ferrous and non-ferrous metals, accurately and quickly.
Measurement of the conformal coating after application is complete and the coating is dry enough to handle is achieved using a non destructive technique using eddy currents. A system like the Positest offered by SCH is extremely quick and accurate to ±1 um at thin films of 25-50 um.
SIMPLE TO USE
Ready to measure—no calibration adjustment required for most application
Enhanced one-handed menu navigation
Two year warranty on gage body AND probe
ACCURATE 
Certificate of Calibration showing traceability to NIST included (Long Form)
Built-in temperature compensation ensures measurement accuracy
Hi-RES mode increases displayed resolution for use on applications that require greater precision
Conforms to national and international standards including ISO and ASTM
VERSATILE
Gage body universally accepts all Positector 6000 (coating thickness) probes
Multiple Calibration adjustment options including 1 point, 2 point, known thickness, average zero
Selectable display languages
Hi Contrast backlit display for bright or dark environments
Flip display enables right-side-up viewing
Uses alkaline or rechargeable batteries (built-in charger)
POWERFUL
Statistics mode continually displays/updates average, standard deviation, min/max thickness and number of readings while measuring
Hi Lo alarm audibly and visibly alerts when measurements exceed user-specified limits
FAST mode – faster measurement speed for quick inspection
USB port for fast, simple connection to a PC and to supply continuous power. USB cable included
Software updates via web keep your gage current
Screen Capture -record and save image into USB flash memory for record keeping and reviewPosiSoft solutions for viewing, analysing & reporting data:
PosiSoft USB Drive -stored readings and graphs can be accessed using universal PC/ Mac web browsers or file explorers. No software required
PosiSoft.net account – a free web-based application offering secure storage of thickness readings
PosiSoft 3.0 – desktop software (PC/Mac) for downloading, viewing, printing and storing measurement data. Available as a free download.
PosiSoft Mobile -(Advanced models only) – access readings, graphs, capture photos and update notations through WiFi enabled devices such as tablets, smart phones and computers
Every stored measurement is date and time stamped
---
Probes Available
The Positector 6000 consists of a Gauge body and a Probe. A wide selection of interchangeable probes are available. All Gauge bodies accept all probes. For conformal coating the recommended probes are as follows:
| | | |
| --- | --- | --- |
| Probe Model  | NS | N0S |
| Substrate | non-ferrous | non-ferrous |
| Probe Style  | regular separate | 0° microprobe  |
| Measuring Range  | 0 – 60 mils (0 – 1500 um) | 0 – 25 mils (0 – 625 um)  |
| Probe Dimensions  | | |
| | A standard System designed where space is not an issue for the probe and measurement of coupons is the typical method.  | A reduced sized probe for examining printed circuit boards where space is limited. |
---
Downloads
Positector coating thickness measurement system
If you're planning to purchase a piece of equipment from SCH please check for the exact details of the system and dimensions if critical. The dimensions shown in all brochures are subject to change between publication dates.
---
Process equipment links
---
Links
---
Contact us
If you would like to know more about coating services or other products and services offered and supported by SCH Technologies, please do not hesitate to contact us.
Call us on +44 1226 249019, email us at sales@schservices.com or click Contact Us to send us your requests.