UV cure Nano-coating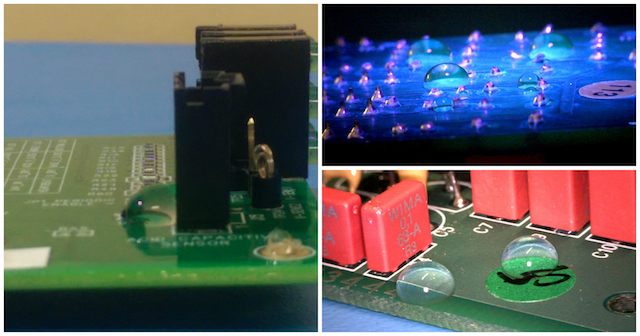 A UV cure Nano-coating is a superb option for electronic substrates made of materials such as glass, metal and plastic.
This PFPE / polyurethane blended Nano-coating displays exceptional hardness, heat and chemical resistance, and also repels moisture. It is used on many substrates including glass, metal and plastic, that rely on both its excellent hydrophobic and oleophobic properties (high water and oil repellency) and also its hardness.
This means UVX works exceptionally well for protecting monitors, screens and other telecommunication devices.
Finally, UVX is cured by ultraviolet (UV) light and this means the coating is cured extremely quickly. Further, application is extremely simple as the Nano-coatings are suitable for all the standard methods including dipping and spraying.
---
Performance properties of UVX
The UVX Nano-coating has excellent properties:
UVX Nano-coating provides an extremely hard protective film on all types of substrates such as glass, metal and plastic. The coating protects monitors and screens, electronics, photoresists, aircraft and automotive components
It has an extremely high speed curing process due to the UV cure chemistry.
Also, the UVX has an extremely high impact resistance because of the UV cure process used
Furthermore, the coating provides excellent hydrophobic and oleophobic properties (>110° in water) because of its fluorocarbon based chemistry as well as providing high resistance to heat and chemicals
Finally, the material is transparent with a low refractive index and we can modify the coating for increased hardness, scratch resistance, and/or adhesion strength to multiple substrates
Talk to us about your requirements for fluoropolymer coatings.
Contact us now.
---
Nano-coating links
---
Links
---
Contact us
Call us on +44 1226 249019, email us at sales@schservices.com or click contact us to send us your requests.