UV-cure nano-coatings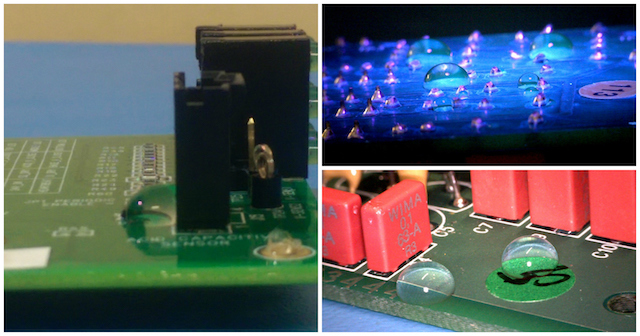 UVX is a highly hydrophobic UV cured nano coating that can be used to protect circuit boards.
The PFPE / polyurethane blended nano-coating displays exceptional hardness, heat and chemical resistance, and repels moisture.
UVX is cured by ultraviolet (UV) light. This means the coating is cured very quickly.
It has been utilised well on many substrates including glass, metal and plastics that rely on both its hydrophobic nature (>110° in water) and hardness.
This means it can work exceptionally well with monitors, screens and other forms of telecommunications.
Why use nano-coatings to protect circuit boards?
---
Performance properties of UVX
The UVX fluorocarbon coating has excellent physical properties:
Used on all substrates (glass, metal, plastic).
UV-curable, also heat or air-dry.
High impact resistance
Hydrophobic (>110° in water)
High resistance to heat and chemicals
Compatible with markers and pigments
Optimized properties at 25um
Can be applied to monitors and screens, electronics, photoresists, aircraft, automotive surfaces
Transparent, with low refractive index
Coating can be modified for increased hardness, scratch resistance, and/or adhesion strength to multiple substrates
Talk to us about your requirements for fluoropolymer coatings.
Contact us now.
Downloads
---
Why use nano-coatings to protect circuit boards?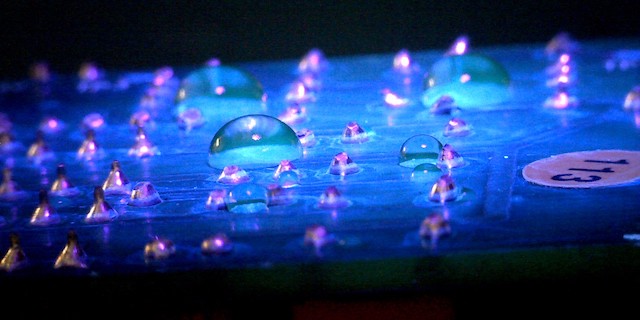 Nano-coatings have very specialised properties for protecting circuit board assemblies.
They include:
Being highly hydrophobic (water repellent)
Having a high moisture barrier
Being ultra-thin so no requirement to mask the circuit board
Being highly oleophobic (oil repellent)
Having a high chemical resistance
Having a high lubricity
Having high dielectric properties
Providing high corrosion resistance
The fluoropolymers are extremely flexible coatings and becoming more prolifically used throughout engineering.
Contact us to find out more about nano-coatings for circuit board protection.
---
Downloads
---
FAQs
---
Nano-coating links
---
Links
---
Contact us
If you would like to know more about coating services or other products and services offered and supported by SCH Technologies, please do not hesitate to contact us.
Call us on +44 1226 249019, email us at sales@schservices.com or click Contact Us to send us your requests.