OPX ultra-thin nano-coating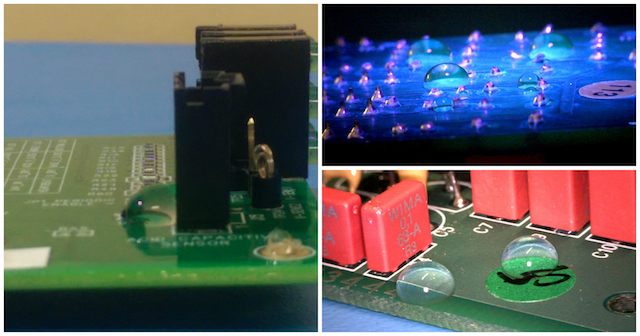 OPX is a a very robust and abrasion resistant high performance PFPE blended with polysilane to form a highly hydrophobic nano-coating.
OPX is a robust and long-lasting thin film that chemically bonds to almost any surface (silica, quartz, glass, metal and most plastics).
Why use nano-coatings to protect circuit boards?
---
Performance properties of OPX
The OPX fluorocarbon coating has excellent physical properties:
Refractive Index 1.3
Contact angle (water) >110°
Contact angle (mineral oil) >70°
Withstands 5000+ rubs with steel wool.
Anti-scratching and anti-smudging properties makes OPX an ideal solution for coating: touch-panel displays, cell phones, LCD, optical filters/lenses and electronic boards
Maintains contact angle after abrasion and exposure to IPA, acetone, others.
Transparent film
Protective coatings for electronic components – ALL of them. Protection for internal pcb, coatings for external case, sub-micron abrasion-resistant coatings for glass display
Talk to us about your requirements for fluoropolymer coatings.
Downloads
---
Why use nano-coatings to protect circuit boards?
Nano-coatings have very specialised properties for protecting circuit board assemblies.
They include:
Being highly hydrophobic (water repellent)
Having a high moisture barrier
Being ultra-thin so no requirement to mask the circuit board
Being highly oleophobic (oil repellent)
Having a high chemical resistance
Having a high lubricity
Having high dielectric properties
Providing high corrosion resistance
The fluoropolymers are extremely flexible coatings and becoming more prolifically used throughout engineering.
Contact us to find out more about nano-coatings for circuit board protection.
---
Downloads
---
FAQs
---
Nano-coating links
---
Links
---
Contact us
If you would like to know more about coating services or other products and services offered and supported by SCH Technologies, please do not hesitate to contact us.
Call us on +44 1226 249019, email us at sales@schservices.com or click Contact Us to send us your requests.