Room temperature Nano-coatings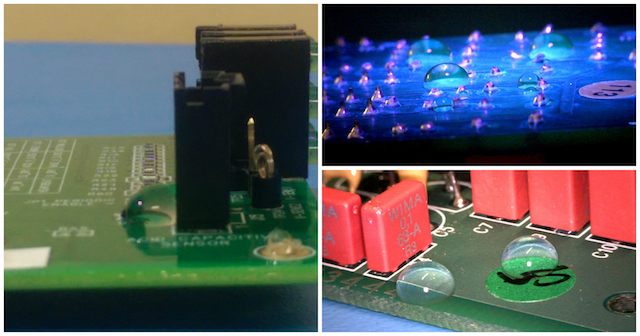 Room temperature Nano-coatings are an excellent choice for protecting printed circuit board assemblies (PCBAs) from harsh environments because they provide low-cost, highly effective protection.
First of all these highly flexible protective coatings are applied at room temperature in the production process. Further, application is extremely simple as the Nano-coatings are suitable for all the standard methods including dipping and spraying.
Finally, they provide excellent protective properties to circuit boards including water repellency,  corrosion, chemical, moisture and salt resistance whilst not requiring the typical masking requirements of key components like connectors that normal conformal coatings need.
SCH provide two fluoropolymer formulations, LT-4 and LT-8, because users can choose from these two different Nano-coatings that have similar protection properties but differing in liquid carrier formulation and cost.
---
Application and Performance properties

Room temperature Nano-coatings have excellent properties:
Application and process
Easy application by dip, spray or brush using relatively simple application equipment
Circuit board assemblies do not require masking of the connectors since the Nano-coatings are ultra-thin and do not stop electrical connection like normal conformal coatings do
High speed application processing since Nano-coatings can be applied fast and dry extremely quickly
Performance
Highly hydrophobic and oleophobic surface protection due to the highly specialised fluoropolymer technology
Corrosion resistant Nano-coatings have superior moisture and salt barrier properties because fluorine based chemistries are highly effective against this type of attack
They have excellent resistance against chemicals and solvent attack due to the fluorine molecular structure
Resists heat to 200C and survives Gamma, E-beam and EtOH sterilization
Nano-coatings stick well to surfaces like printed circuit boards and will not occlude fine gauge mesh openings due to the excellent coating adhesion and wetting properties
They are easily re-workable and removable due to the coating being soft and ultra-thin
These coatings are transparent and optically clear so properties of components like LEDs are not effected
These Nano-coatings are especially suited for printed circuit board assemblies (PCBs), electronics, metals, MEMS, sensors, plastics, steel mesh, membranes and fabrics due to their unique properties.
Our chemistries are adaptable and custom so that you can achieve the protection you require. We can vary the fluorocarbon solids from 0.1% upwards and create low viscosity, low surface tension film thicknesses from 200 nanometres to many microns depending on requirements.
Contact us now.
---
Downloads
---
LT-4 and LT-8 difference
The difference between the two room temperature Nano-coatings (LT-4 and LT-8) is the solvent carrier.
The LT-4 coating is based upon standard solvents and provides a high performance solution at a commercially low price. The LT-8 coating uses a fluorosolvent carrier that is a more friendlier alternative to the environment and the operator compared but is a more expensive option to purchase due to the solvent costs.
Talk to us about your requirements for fluoropolymer Nano-coatings since we can help you in protecting your printed circuit boards (PCBs).
Contact us now.
---
Nano-coating links
---
Links
---
Contact us
Call us on +44 1226 249019, email us at sales@schservices.com or click contact us to send us your requests.