Dip coating is a traditional conformal coating application method that has been used to conformal coat circuit boards for a very long time.
The process in its simplest form is as follows:
The printed circuit board (PCB) is dipped into a tank of conformal coating liquid.
This can be complete submersion or partial dip.
The board can be dipped vertically, horizontally or at another angle.
The board can be dipped manually or automatically.
The board is removed from the coating and the excess coating drains away.
This process is highly effective in applying a conformal coating to a printed circuit board (PCB).
---
What equipment may you need for dipping circuit boards in conformal coating?
A simple process is a board dipped by hand into a container of conformal coating. This can give some reasonable results.
However, normally dip coating equipment is used. This is especially true if medium and high volume processing is required.
The reason for using dipping machines is because the process has variables that are critical to film integrity and they are controlled by the machine system.
The variables that are critical for film quality and thickness are:
The speed of immersion
Dwell time in the coating
The withdrawal speed of the board
These factors, plus the viscosity of the conformal coating, are important to create a high quality finish and reduce costs.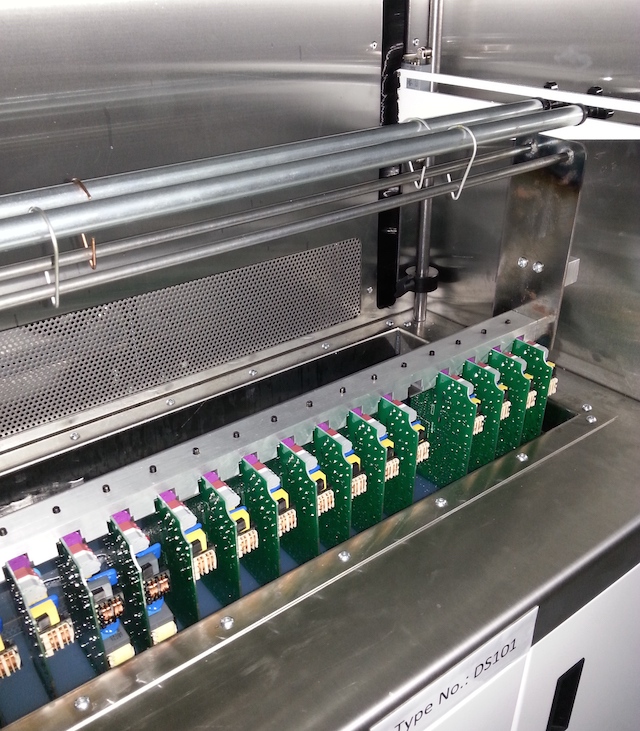 ---
How cost effective is the dip process for conformal coating?
The conformal coating process itself can be extremely low cost.
The cost of a dip system can be low compared to many other processes and when balanced against the speed of application.
However, if the circuit board demands a lot of components be masked before processing then the overall coating process can be expensive.
Masking for dipping can be very demanding and very difficult to complete successfully.
---
Need to know more about using a conformal coating in your application process?
Contact us now and we can discuss how we can help you.
Give us a call at (+44) 1226 249019 or email your inquiries at sales@schservices.com