In general it is important that conformal coatings have good adhesion in order to be effective. However, there is no single theory that describes the property of adhesion for conformal coatings.
There are three basic mechanisms for conformal coatings that are known to help with good adhesion.
They are:
Adsorption
Chemical Bonding
Mechanical Interlocking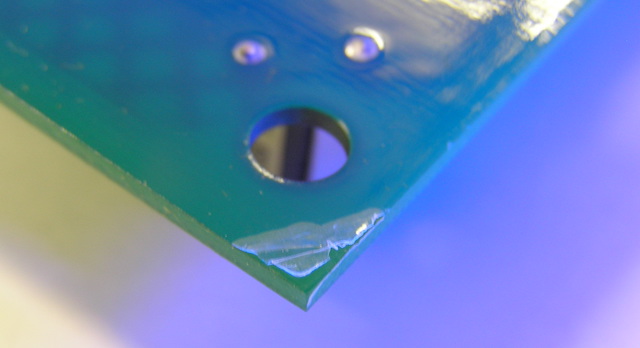 Adsorption
This is where the molecules in the conformal coating wet or flow freely over the substrate and make intimate contact with the substrate. This forms interfacial (electrostatic) bonds with van-der-Waal forces.
Any contamination between the two will weaken the adsorption. Any de-wetting (prevention of wetting) will also hinder the adsorption.
Cleaning the surface of contamination will help with adsorption.
Chemical bonds
The bonds are formed at the interface between the conformal coating and the substrate.
Good bonding gives strong adhesion of the conformal coating to the substrate. If bonding cannot be achieved due to contamination then poor adhesion may result.
Cleaning the surface of contamination will help the chemical bonding process.
Mechanical interlocking
The conformal coating film penetrates the roughness on the substrate surface and is achieved once the coating dries.
If the surface is smooth then the mechanical bonding is less effective. If the surface can be cleaned, leaving a rough surface, then more effective bonding can be achieved.
Cleaning the surface of contamination will help.
---
Achieving the best conformal coating adhesion
Surface contamination can be critical when considering conformal coating and the process. If you can clean the contamination from the surface then the adhesion of the conformal coating should improve.
All three mechanisms do not have to occur to form good adhesion. Depending on the specific conformal coating system, substrate, and application method, different mechanisms could work.
However, good wetting or adsorption is normally required for good bonding.
So, if in doubt clean the surface of the substrate to achieve good conformal coating bonding.
---
Need to know more about conformal coating adhesion?
Contact us now and we can discuss how we can help you.
Give us a call at (+44) 1226 249019 or email your inquiries at sales@schservices.com