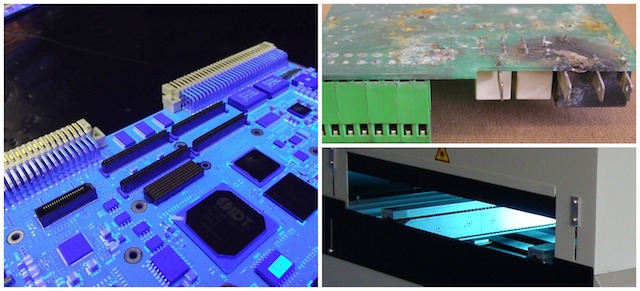 A polyurethane (urethane for short and designated UR by IPC) conformal coating is part of the organic family of coating materials that also includes the acrylic and epoxy coatings.
Here are three key facts to consider when examining polyurethane conformal coatings:
Most conformal coatings provide good humidity and moisture protection although some are slightly better in performance than others. UR type coatings are just as good on average as acrylic materials.
A polyurethane coating has traditionally been used to protect electronic circuit boards against chemical attack due to their excellent chemical resistance. This protection allows electronic circuit boards to survive in highly aggressive environments and atmospheres such as the aerospace, military and industrial sectors. However, it does make repair a little more difficult as chemical resistance to a coating means more difficult to remove.
Times are changing and whereas acrylic conformal coatings used to dominate 70-80% of the market, there is a shift in emphasis towards alternative materials due to higher specifications for protecting electronics. Many new conformal coatings (UV cure, two part thin film coatings) now comprise of urethane resin bases and are becoming more popular in high volume sectors such as automotive electronics. This is because the urethane resin lends itself to this type of technology more easily than the acrylic based resins.
---
Want to find out more about polyurethane conformal coating?
Contact us to discuss your needs and let us explain how we can help you.
Contact us now.