Subcontract coating services

SCH Technologies provides global subcontract coating services across North America, Europe and Asia through many different partners.
Due to our expertise and knowledge we can provide independent outsourcing of coating projects for many different sectors of industry. As a result, we can offer many types of thin films including conformal coatings, fluoropolymer coatings and Nano-coatings.
Further, we use a wide range of coating application techniques including dipping, spraying, chemical vapour deposition (CVD) and Atomic Layer Deposition (ALD).
Therefore. this gives you flexibility in your selection of coatings to use you have options to outsource your coating requirements when you need to.
---
Range of services offered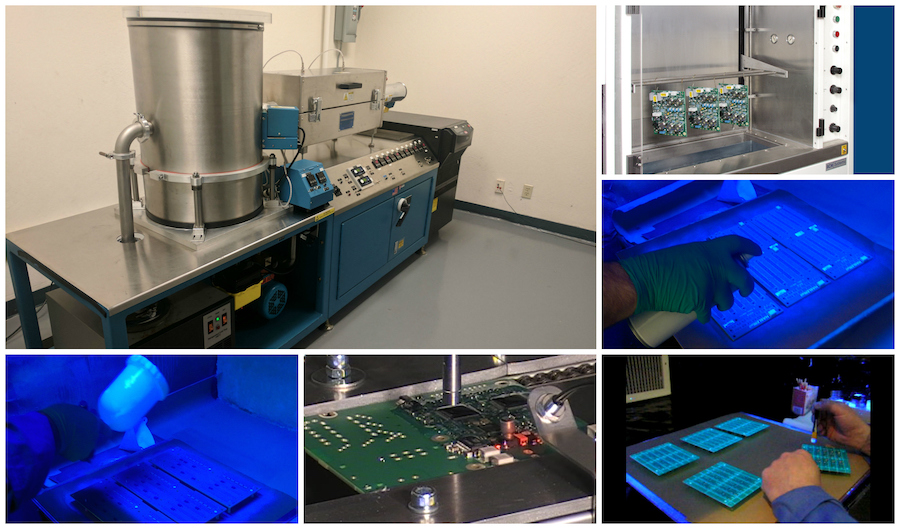 Global subcontract coating services in North America, Europe and Asia.
Our different facilities can coat with many different materials including conformal coatings and fluoropolymer Nano-coatings.
Within these sites we use many different coating application processes.
Our capacity capabilities can handle low, medium or high volume dependent on customer requirements.
Complete environmental and ESD control of the coating services.
All methods of curing and drying are available including UV and IR.
We can process to the highest standards including IPC A 610 Class III and higher.
ISO9001 and ISO14001 Qualified.
Qualified on many Qualified Supplier Lists (QPL) globally.
Download our brochure SCH Brochure Coating services now.
---
Quality of services
Due to our range of specialist facilities we can handle all levels of volume for printed circuit boards and products. In fact, we can coat any range of volume and type of conformal coating there is.
We have 30 plus years of experience in all areas of conformal coating and associated materials. As a result, our coating processes operate efficiently without compromise to quality.
In terms of quality our facilities can provide coated product of the highest order due to our experience and expertise. First, all of our sites have international standards such as ISO9001. Further, we also have sites with specialist qualifications as required by specific industries. Finally, we are listed on many Qualified Supplier Lists (QPL) globally. Therefore, you can trust our quality.
We are unique as a conformal coating solution supplier within these markets since we can offer a full range of subcontract coating services to suit the customer.
---
Want to know more about conformal coating?
Check out Nexus, an independent conformal coating resource, who provide detailed information on all areas of the conformal coating process.
---
Downloads
Links
Contact us
Call us on +44 1226 249019, email us at sales@schservices.com or click contact us to send us your requests.