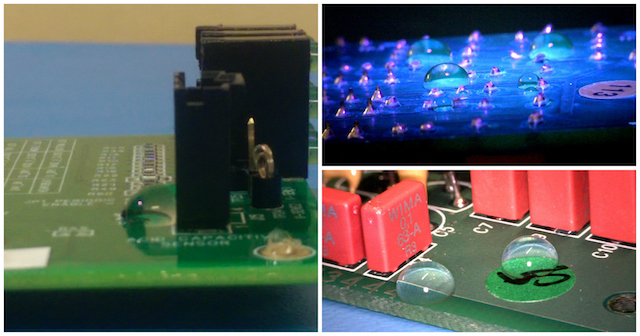 SCH Technologies, the conformal coating solutions provider, are exhibiting a range of hydrophobic Nano-coatings at the SMT Show in Nuremberg in May.
These ultra-thin conformal coatings include high and low temperature fluoropolymer solutions that offer high quality, low cost coatings to protect circuit board assemblies and other products.
The Nano-coating range include several variations including:
LT Series (room temperature cure)
UVX (UV-cure)
OPX (sub micron)
Acrylic hydrophobic coatings
Our fluoropolymer coatings are being applied to many different circuit boards in a range of sectors.
They are tried and tested and solve many peoples problems.
---
Why use nano-coatings to protect circuit boards?
Nano-coatings have very specialised properties for protecting circuit board assemblies.
They include:
Being highly hydrophobic (water repellent)
Do not require masking before coating
Having a high moisture barrier
Being highly oleophobic (oil repellent)
Having a high chemical resistance
Having a high lubricity
Having high dielectric properties
Providing high corrosion resistance
These flexible fluoropolymer coatings are becoming more prolifically used throughout engineering.
Contact us to find out more about nano-coatings for circuit board protection.
---
Want to find out more about our Nano-coating solutions?
Find out more by visiting us at the SMT Show in Nuremberg at our stand number 345 in Hall 4 and discussing your coating needs.
Or contact us directly on +44 (1226) 249019 or sales@schservices.com