NEW!

INNOVATIONS BEGIN AT PRODUCTRONICA INDIA 2017

International Trade Fair for Electronics Development and Production

Electronica India and Productronica India, the leading trade fairs for electronic components and manufacturing technologies, will take place from September 14–16, 2017 at Pragati Maidan in New Delhi. This edition is set to be even bigger as it marks a presence of over 450 exhibitors representing more than 650 companies from about 18 countries. The electronics community meets at this global exhibition network that combines innovations and trends with country-specific themes. The event enables an impetus and an ideation platform for the electronics business.
There are plenty of good reasons to attend Productronica India. It will give you a broad overview of the entire electronics production industry and give you new drive for your business success. See for yourself.
World's leading trade fair network. No other trade fair benefits from being embedded in a worldwide cluster as much as Productronica India. Productronica India brings together local and international suppliers of electronics manufacturing equipment. At the same time, leaders from the electronics industry meet at electronica India, which creates the best communication and business environment for both sides.
Get to know the latest trends in the global electronics industry. International exhibitors from countries such as Japan, Taiwan, China, Germany, the UK, etc. display their latest products at the fair, making it the perfect platform for finding global partners.
We offer high service quality and international standards. We have been organizing leading events in Munich since 1964, but we also have a great deal of experience with Productronica in India, which allows us to guarantee you the most efficient trade show experience and market expertise.
Industry and marketing know-how that is difficult to emulate. Strong alliances with the government of India (Department of Electronics and Information Technology—DeiTY, the Ministry of Home Affairs and Ministry of External Affairs). Support from national and international associations such as the Electronic Industries Association of India (ELCINA), India Electronics & Semiconductor Association (IESA), National Small Industries Corporation (NSIC), Consumer Electronics and Appliances Manufacturers Association (CEAMA), The Institution of Engineering and Technology (IET), LED Products Manufacturing Association (LEDMA), the Consortium of Electronic Industries in Karnataka (CLIK), the German Electrical and Electronic Manufacturers Association (ZVEI) and many more result in the outstanding quality of Electronica India and Productronica India.
We have a high-quality supporting program. With the help of associations and other industry partners, Productronica India's special lectures always adapt to the market needs. Speakers include experts, executives, and researchers from leading companies and scientific research institutions. This much experience, knowledge, and expertise are not available in this form anywhere else. Details about the program are available here.
Attractive synergies for visitors. Being co-located with electronica India and LASER World of PHOTONICS INDIAcreates attractive synergies and added value for visitors. It gives them the opportunity to gain insights into the latest technologies and applications in all electronics sectors as well as the photonics industry.
SCH Technologies will be participating in the upcoming Productronica India International Trade Fair for Electronics Development and Production, visit us at Hall No. 11, Booth 1142 (UK Pavilion). We will showcase many new products including our newly qualified UL acrylic conformal coating that has the highest performance at the lowest price, our increasing range of ultra-thin fluoropolymer Nano coatings that don't require masking and our specialist range of aqueous and solvent based cleaning fluids that can handle all levels of cleaning in electronics.
For more information, click here: http://www.productronica-india.com
---
Design your business success at no.1 platform for electronics manufacturing in Thailand

NEPCON Thailand, one of the world-renowned NEPCON series is ready to present Thailand's only event for SMT and electronics manufacturing industry.
A carefully though-out and well-planned design for manufacturability, state –of-the-art manufacturing innovations and solutions, and cutting-edge know-how can help electronic parts manufacturing step up their competitive edge and growth. At NEPCON Thailand 2017, Over 350 brands of technology providers from 22 countries will come together to empower manufacturing capacity in E&E industry. Every profile from upstream to downstream will gather under one roof to service the needs of over 10,000 quality buyers. It's turnkey solution for everyone in E & E industry throughout the region. Prepare for business-inducing activities such as factory visit and sourcing opportunities, and acquire knowledge you need for your business while reaching out to new business partners at our forum.
NEPCON Thailand 2017 is the leading platform for top executive in the electronics industry across ASEAN to share special innovation, latest machinery, and new solutions. Come and visit us on June 21-24 at BITEC. To learn more about NEPCON exhibit, read full details at https://joom.ag/SagW.
---
Hydrophobic Nano-coatings at SMT Show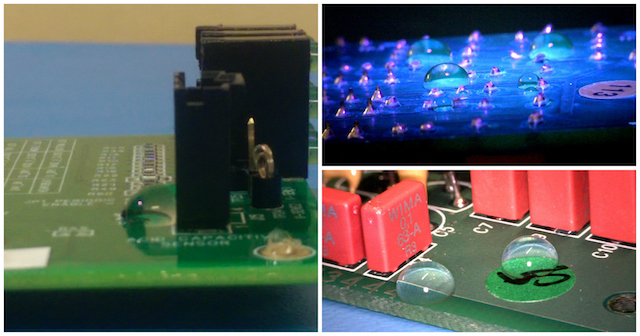 We offer a full range of high quality, no masking Nano-coatings that protect circuit board assemblies.
Visit us at the SMT Show at stand number 345 in Hall 4 in Nuremberg in May and see our range of hydrophobic Nano-coatings.
---
SCH exhibit their custom conformal coating masking boots at SMT Nuremberg Show in Germany in May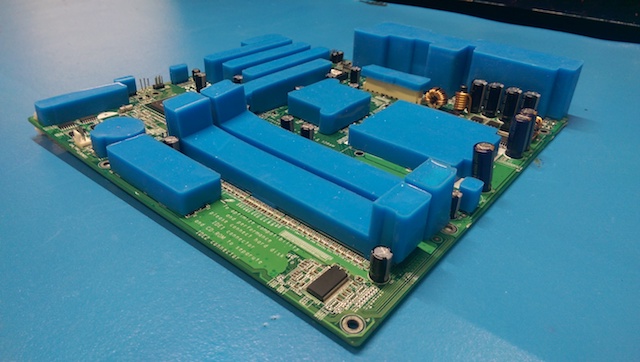 The use of other materials such as masking tapes, dots and liquid latex can be an effective process in protecting components from ingress of conformal coating.
However, the masking can be labour intensive, difficult and time consuming.
Recyclable masking boots offer a labour saving alternative in both the masking and de-masking stages of the coating process.
This saves you time and money.
---
Protect your circuit boards with conformal coating
Some of the most important pieces of your hardware are minuscule. The high performance and durability of your circuit boards greatly depend on their longevity. These tiny powerful technologies are prone to damage brought about by contamination, dust, fungus, moisture, and other forms of corrosion.
Conformal coating will conform to the intricate shapes of your circuit boards and protect them from elements that can damage them.
SCH Technologies and Thin Film Partners are one of the leading service providers in the field of conformal coating.
---
Conformal coating 101:  Learn how to save money and protect your board correctly
Want to get the best from your conformal coating process? Then come and meet us at the IPC Apex conference and expo on February 11 to 16, 2017 at San Diego Convention Center in California, USA where we will be show casing our range of conformal coatings.
What is a conformal coating?
A conformal coating is a protective film that conforms to the surface of a circuit board assembly.  The conformal coating can be used to create a protective barrier between contaminants in the environment and the assembly. It is also usually used on electronic products that are exposed to adverse environments where contamination, heat, chemicals and / or moisture are prevalent. This means that the printed circuit board assembly may be protected from damage due to contamination, salt spray, moisture, fungus, dust and corrosion caused by harsh or extreme environments.