Product features
Manual or timer controlled shutter system
Foot or hand switch operation
Interface for 24 V remote signal connections
Elapsed hour counter for service scheduling
UV bulb error indication
Fan cooled
Auto reset thermal cut out
Power supply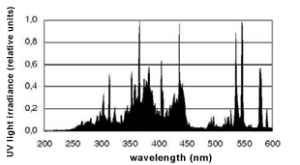 230 V 50 Hz (other options – price on request)
UV light spectral output
The selection of UV bulb and filter glass will depend on the particular application.
The usual combinations are provided in the table below.
Filter Glass     Wavelengths  Peak output
Black   315 nm – 405 nm     365 nm
No filter          160 nm upwards      –
Fitted with an Iron (Fe) doped metal halide 250 W high intensity discharge UV bulb
---
Technical Specification
UV bulb
250 W high intensity discharge Iron (Fe) doped metal halide (ozone free)
UV bulb life
Approximately 500 hours depending on age, environment, switching and cooling
UV light irradiance
Up to 1,500 mW/cm2
Reflector
Glass
Flexible liquid light guides
Active core diameters: 5 mm and 8 mm
Lengths: 1000 mm and 1500 mm
Other lengths available on request
Power supply
230 V/50 Hz or 115 V/50 Hz (60 Hz options available)
Power
260 W
Noise
< 70 dB
Rating
IP 40
Integral fuse protection
2 x 4 A miniature time lag fuses
Weight of UV unit
Approximately 10 Kg
Due to our policy of continual development we reserve the right to amend technical data.
---
Health and Safety
All our products are classified in accordance with BS EN 62471:2008 and supplied with maximum permissible exposure times for the unprotected skin and eye at specified distances from the UV lamp, enabling strict compliance with The Control of Artificial Optical Radiation at Work Regulations 2010.
Availability of this essential information should form the basis of any procurement policy.
---
UV links
---
Links for further information
---
Contact us
If you would like to know more about coating services or other products and services offered and supported by SCH Technologies, please do not hesitate to contact us.
Call us on +44 1226 249019, email us at sales@schservices.com or click Contact Us to send us your requests.