The use of masking materials such as tapes, dots and liquid latex can be a highly effective process in protecting components from ingress of conformal coating.
However, the masking process can be labour intensive, difficult and time consuming.
Using reusable, custom masking boots offers a labour saving alternative in both the masking and de-masking stages of the coating process.
This can save you lots of time and money.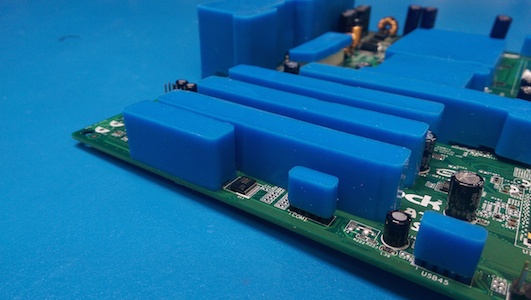 Three simple reasons why conformal coating masking boots can save you money
Masking time is reduced. Using masking boots as an alternative can be 4-5 times quicker than masking tape.
De-masking time is reduced. Again it is much quicker to remove masking boots than tape
Masking boots don't leak as easily as tape. So there is less chance of a need to repair or remove leaked coating.
This means you can save a lot of money very quickly when switching to custom masking boots.
---
How Diamond MT saved nearly 60% of their process time switching to masking boots
Diamond MT, a conformal coating and Parylene coating service provider, found they saved 60% of their current costs by switching to the SCH range of conformal coating masking boots.
Sean Horn, Diamond MT, explains how they did it.
"We had initially wanted to try SCH's conformal coating masking boots for price savings. However, once we began to work with Lee on our specific masking application, we realised that we could extend the life of our boots over 200%. We switched immediately!
We then realised the importance of working with someone who understands conformal coatings. We will not being going back to our previous supplier."
Sean Horn, Director, Diamond MT, Parylene and conformal coating subcontract service provider.
---
Find out how much you can save by switching to custom boots
We are happy to provide a quotation for our masking boots so you can see for yourself how much you can save.
Just provide us with three pieces of information:
Provide a picture of the board you wish to test
Identify the components you need to mask
Provide the component identification codes (manufacture details etc)
Contact us now to request your quotation for conformal coating masking boots.
Call us on +44 (0) 1226 249019, email your requirements on sales@schservices.com