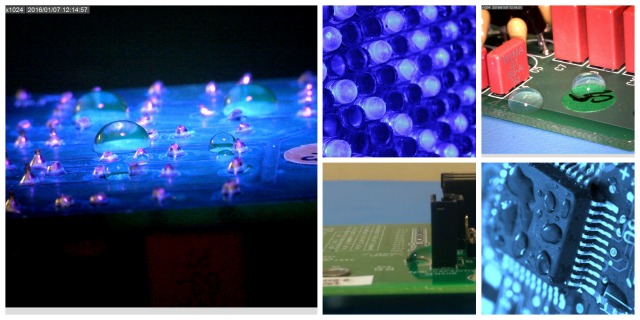 We have a full range of high temperature and low temperature fluoropolymer nano-coatings available from Thin Film Partners.
They include:
Our fluoropolymers are being applied to many different products. They are tried and tested and solve many peoples problems.
This gives us confidence that we can find you the right material for your solutions.
Find out more about our fluoropolymer coatings.
---
LT Series (Room Temperature cure)
SCH provide two proprietary low temperature fluoropolymer coating formulations, LT-4 and LT-8. They have similar protection properties but differ in liquid carrier.
Performance properties of LT-4 and LT-8
The fluorocarbon coatings have excellent physical properties:
Hydrophobic and oleophobic surface performance
Superior moisture and salt barrier properties
Corrosion resistant
High resistance to chemicals/solvents
Resists heat to 200C
Survives Gamma, E-beam and EtOH sterilization
Good adhesion
Will not occlude fine gauge mesh openings
Well suited for: pcb, electronics, metals, MEMS, sensors, plastics, steel mesh, membranes, fabrics
Adaptable and customisable chemistry
Re-workable, solderable
Optically clear liquid formulation
Film thickness from 200 nanometers to 2+ microns
Varying fluorocarbon solids from 0.1% upwards
Transparent, colorless film
Low viscosity, low surface tension solution
LT-4 and LT-8 Difference
The difference between the two coatings (LT-4 and LT-8) is the solvent carrier.
The LT-coating 4 is based upon standard solvents (acetone, butyl acetate) and MEK and provides a commercially price sensitive solution.
The LT-8 coating uses a fluorosolvent carrier that is a safe alternative to the environment and the operator.
Talk to us about your requirements for fluoropolymer coatings.
Contact us now.
---
UVX (UV-cure)
UVX is a PFPE / polyurethane blended product that displays exceptional hardness, heat and chemical resistance, and repels moisture.
UVX is cured by ultraviolet (UV) light. This means the coating is cured very quickly.
It has been utilised well on many substrates including glass, metal and plastics that rely on both its super hydrophobic nature (>160° in water) and hardness.
This means it can work exceptionally well with monitors, screens and other forms of telecommunications.
Performance properties of UVX
The UVX fluorocarbon coating has excellent physical properties:
Used on all substrates (glass, metal, plastic).
UV-curable, also heat or air-dry.
High impact resistance
Super hydrophobic (>160° in water)
High resistance to heat and chemicals
Compatible with markers and pigments
Optimized properties at 25um
Can be applied to monitors and screens, electronics, photoresists, aircraft, automotive surfaces
Transparent, with low refractive index
Coating can be modified for increased hardness, scratch resistance, and/or adhesion strength to multiple substrates
Talk to us about your requirements for fluoropolymer coatings.
Contact us now.
---
OPX (Microthin Fluoropolymer)
OPX is a a very robust and abrasion resistant high performance PFPE blended with polysilane.
OPX is a robust and long-lasting thin film that chemically bonds to almost any surface (silica, quartz, glass, metal and most plastics).
Performance properties of OPX
The OPX fluorocarbon coating has excellent physical properties:
Refractive Index 1.3
Contact angle (water) >110°
Contact angle (mineral oil) >70°
Withstands 5000+ rubs with steel wool.
Anti-scratching and anti-smudging properties makes OPX an ideal solution for coating: touch-panel displays, cell phones, LCD, optical filters/lenses and electronic boards
Maintains contact angle after abrasion and exposure to IPA, acetone, others.
Transparent film
Protective coatings for electronic components – ALL of them. Protection for internal pcb, coatings for external case, sub-micron abrasion-resistant coatings for glass display
Talk to us about your requirements for fluoropolymer coatings.
Contact us now.
---
Interested in our range of nano-coatings?
Contact us now to discuss what we can offer you.
Give us a call at (+44) 1226 249019 or email your inquiries at sales@schservices.com.